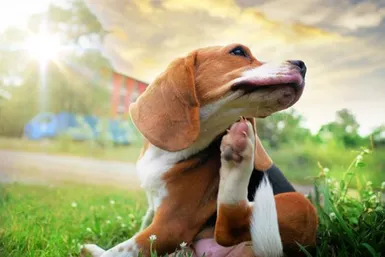 People aren't the only ones who can experience allergies. Your pet is also prone to allergy symptoms. Even if your pet's allergy symptoms aren't life-threatening, they can still cause discomfort and pain. These FAQs from Sunrise Pet Hospital, your Anaheim, CA pet hospital near me, provide greater insight into the causes and symptoms of pet allergies and what can be done for treatment.
What kind of allergies can affect your pet?
Pets are prone to four types of allergies:
Food allergies – caused by certain ingredients in your pet's food
Flea allergies – caused by flea saliva after being bitten
Environmental allergies - caused by indoor or outdoor allergens like dust, mold, pollen, grass, plants
Contact allergies - caused by ingredients in household or grooming products
What are some common symptoms of pet allergies?
Your pet's symptoms will depend on the substances he's allergic to. Food allergies, for example, may cause digestive issues, whereas environmental allergies may cause respiratory allergic reactions. Some symptoms to watch out for are:
Itchiness of the eyes or skin
Constant licking, biting, or scratching
Chronic ear infections
Red, crusty or inflamed skin
Foul body odor
Fur loss
Vomiting or diarrhea
Wheezing, sneezing, or raspy breathing
At the first sign of allergic symptoms, notify your Anaheim veterinarians or seek pet medical services near me. At your Anaheim, CA animal hospital, we can diagnose your pet's condition and recommend treatment.
How are pet allergies treated?
For environmental or contact allergies, we may conduct blood or skin tests to uncover what's triggering your pet's symptoms. For food allergies, we may place your pet on an elimination diet to uncover the ingredient causing his allergic reactions. Once the allergens are identified, you can remove them from your pet's environment so he can obtain relief. This may entail changing your pet's diet, buying eco-friendly household or grooming products, or altering aspects of your pet's lifestyle.
Your Anaheim veterinarians can also recommend medication or topical creams and ointments that can help relieve itchiness and other symptoms. At Sunrise Pet Hospital, you can obtain prompt and effective pet medical services near me to meet all your dog or cat's veterinary needs.
Can pet allergies be cured?
Although there's no cure for pet allergies, your Anaheim vet can help control your pet's symptoms so he can obtain relief. Managing your pet's allergy symptoms will enable him to live a high quality of life.
Bring Your Pet to Your Anaheim, CA Pet Hospital Near Me for Allergy Treatment
If you suspect your pet has allergies, contact your Anaheim, CA animal hospital - Sunrise Pet Hospital - at (714) 283-0227 for diagnosis and treatment of his condition. The sooner allergies are diagnosed, the sooner your pet can obtain allergy relief.