With summer fast approaching, now's a good time for you to start planning your summer vacation, including arrangements for the care of your pet. If you live in Anaheim Hills, you can board your pet at Sunrise Pet Hospital where he'll be looked after by your veterinarian in Anaheim Hills and our dedicated staff. We'll keep your pet safe, happy and healthy while you're away, so you can enjoy your vacation to the full without worrying about your furry friend.
Benefits of Pet Boarding near Me
At Sunrise Pet Hospital, we're experienced at caring for all breeds of dogs and cats. Your dog will enjoy roomy, indoor accommodations for sleeping and spacious outdoor areas for exercise and play. Your kit will stay in a comfy kitty condo. Our pet boarding near me services include healthy Science Diet meals (or you can bring your pet's favorite food and treats from home), daily exercise and play, personal time with our staff and grooming to keep your pet looking its best. In the event of sickness or accident, your pet will have easy access to pet medical services near me from your veterinarian in Anaheim Hills, an added plus to his care.
Care for Special-Needs Pets
If your pet has special needs, such as a special diet or medication that needs to be taken regularly, you can rest assured that our staff will ensure these needs are met. We'll follow your instructions for medication and/or supplements so your pet's healthcare routine is not disturbed while you're away. We'll also follow your pet's regular meal and exercise schedule to help him feel comfortable in our care. At our boarding facility, pet medical services near me are readily available to take the stress out of boarding your special-needs pet.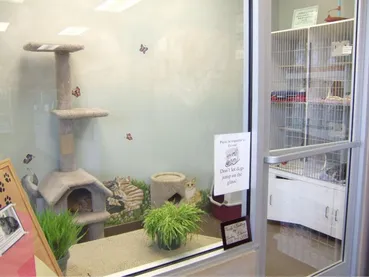 Safety and Security
One of the greatest benefits of pet boarding is the safety and security of your pet. Our indoor kennels and kitty condos are safe, clean, hygienic environments where your pet will enjoy a comfortable stay. All pets in our care are required to have vaccinations up to date to protect the spread of contagious diseases. Our staff supervises all times of fellowship and group play, to avoid unnecessary squabbles and prevent aggressive behavior between our pet guests. Your pet will receive personal attention from our staff and medical care from the best vet near me to keep him healthy and happy while you're away.
Board Your Pet with Us!
Looking for the best vet near me to care for your pet during your vacation travels? Look no further than our pet boarding accommodations at Sunrise Pet Hospital in Anaheim Hills, CA. Call 714-283-0227 to reserve your stay today!