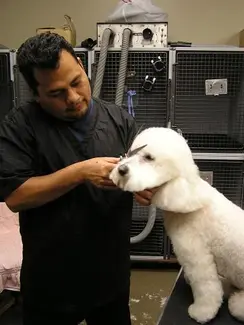 Full-service grooming is available to help your pet feel its best. As a pet owner, you know that your pet's skin and fur can tell a story about your pet's health. The way your dog or cat looks could tell a vet or groomer a lot about his or her health, and grooming your pet can also impact his or her health. Are you searching for "pet medical services near me" or "best vet near me" with the hope of finding a vet who offers grooming services as well? At Sunrise Pet Hospital, we offer pet grooming services alongside standard veterinary care.
Baths
While pets don't need to bathe as often as humans, a thorough bath is a good idea every once in a while. A bath will help wash any debris that has been lurking in your pet's fur, and the brushing that follows will help prevent matting and other common issues.
Haircuts
A haircut can also prevent your pet's fur from becoming matted. A simple cut can help a cat or a dog be more hygienic. For instance, a groomer might cut some of the hair around a cat's hindquarters to make it easier for cats to use the litter box hygienically. Cuts can also prevent your pet's hair from getting too long and dirty.
Identification of Skin Issues
Often, a groomer is the first to identify issues with your pet's skin, including dry, flaky skin or allergic dermatitis. Groomers also identify issues like ticks, fleas, and mites that may require more attention. If you see a groomer who is also a veterinarian, you can count on them to provide necessary medication or recommendations for preventative medications.
Schedule an Appointment with Our Veterinarian in Anaheim Hills
Sunrise Pet Hospital is a veterinarian in Anaheim Hills that also offers grooming services. If you have been searching the web for things like "grooming and pet medical services near me," we may be the answer. Call us today at (714) 283-0227 for more information on the pet grooming services we offer or to schedule an appointment with our veterinarian.